Call it your Blue Ocean Strategy.
Call it a "Niche Domination Blueprint."  (No link, sorry Warriors.)
Whatever you call it, when your competitors all zig, do … pretty much anything else.
Here's one sure way to know your idea is a loser:  You Googled the phrase "clone script" after downloading an example business plan and slapping your logo on it.  You dream of accepting angel funding or joining an accelerator now that you're headed for the bigtime. This is a clone theme for WordPress: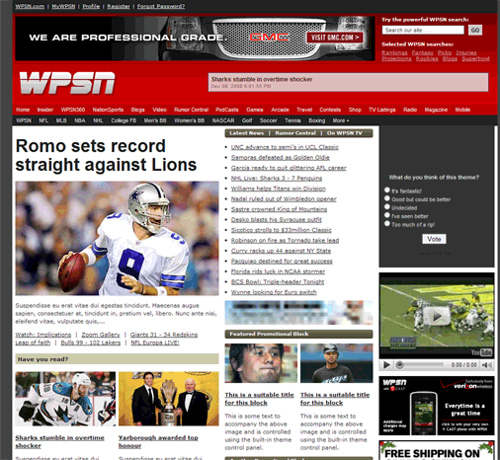 Isn't it every sports fan's wish to read a poorly written, under-sourced, trite piece of faux sports journalism from someone who scammed off the back of someone else's hard work?  (I am talking about the clone site, not the actual ESPN stories, though I know it is hard to tell in this example.)
If you started a Groupon-like site, you didn't make Groupon-like money.  LivingSocial laid off about 400 workers at the end of 2012 and they're the most successful clone.  We've seen "Groupon for Photographers," "Groupon for School Fundraising" and of course, "Groupon for Live Music."
When was the last time you had a craving for pizza and ate a tomato?  
Many wedding photographers claim a trifecta of clichés as their business tagline.  "Elegant, Timeless, Romantic!"  "Beautiful, Timeless, Simple!"
Have you ever instead wanted "Dated, Emotionless, Disgusting!" wedding photography?  Why wouldn't you be a "romantic" wedding photographer?
Zag, dammit.
I'm not suggesting you offer ugly, putrid, slow wedding photography just to be different.  But take a stand that not everyone wants to take.
Some businesses stand for high-end, classy luxury. Others exist to provide consistent, affordable services to the masses.  McDonald's has made billions on "fast" while some restaurants have joined the "slow food" movement to provide a more satisfying and complete experience.  Walmart chose the "bulk, cheap" route while only 20 Lamborghini Sesto Elementos were ever made.  Both made more money than you last year.
If you, your #1 competitor, and the new guy down the road all offer the same thing, don't be surprised when you get the same results.