Just because someone stumbles and loses their path,
doesn't mean they're lost forever. – Charles Xavier
Last year I turned 40. I worked for the last 25 years of my life – from Dunkin Donuts cashier to student work at the college library and then online. I ran a successful photo studio, worked in affiliate marketing and sold photos online. I've had two marketing agencies and worked for one of the largest in Australia. I am a workaholic who often spends 16 hours a day working.
For the last 3 months I haven't done almost anything. I haven't been able to concentrate on work, focus on writing or marketing, I have lost track of much of my reading and just let things happen around me.
How I Stumbled & Lost My Path
It doesn't take much for even the hardest working person to lose their way. For me, it took an injury. Actually, it took 4 injuries and 1 life-threatening illness.
First, I sprained my foot very badly. It has never really healed properly. Then I ran a half marathon without proper training and had a compression injury in my back. Those things hurt but eventually the pain subsided. Then I was struck with a kidney infection that nearly killed me. I missed almost two weeks of work. I was in bed shaking, feverish, just feeling like I was going to die.
After a while I recovered from the infection and things were going well. Work was improving and I was promoted twice very quickly at the agency. Then my wife and I bought a house. As we packed up for our big move, I lifted a box the wrong way and herniated a disc in my back. That injury was the worst up until that point. It hasn't gone away and lasted well over a year so far. The surgery they suggest is risky and has no guarantee of success.
But still, I worked. I had to quit my job with the agency before I really wanted to be done. But I worked. I worked hard from home. I've built my own marketing agency site and will continue with that. But work always came easily. So I kept working.
Then, I popped my quad muscle. And I quit.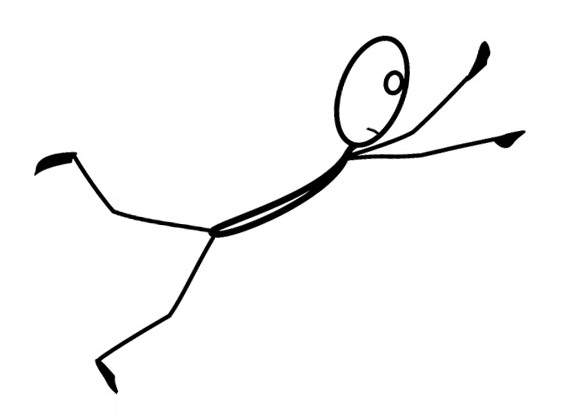 I quit my physical recovery. I quit working almost at all. I quit waking up before noon. I quit because my body kept quitting on me. I couldn't take it and I just felt old and done. I stopped returning phone calls. I didn't text friends back. I just couldn't think about going forward when all I knew was pain. I was (and am) in pain every day for almost 5 years.
Lying on the floor, collapsed on my injured quad, with the worst pain of my life, I quit.
Getting Back On Track
Yesterday I published my first work online in almost 4 months.
I texted back a former colleague who wanted to do some work together. I opened some of my work documents for the first time in months. My team was doing a bit of work behind the scenes but even half of them have left me so I need to start again, fresh. Some of my closest allies as I've built my agency are gone for other reasons.
What changed? The same thing that always changes when you make decisions. You start. You keep going.
I made a choice to stop … My injuries were an excuse, the same as people make when they eat the wrong foods, drink too much, or laze away a weekend.
What Do You Want? What Are Your Goals?
What are you going to accomplish this year? What goals have you set for 2016?
Without goals, it doesn't matter how motivated you are. You'll run in circles accomplishing nothing much. Without goals, your passion, motivation, and effort are all wasted.
But it's easy to set a goal. I want to lose 52 pounds this year. There, goal set. But it's not that easy, right? Now I have to get to work. I have to walk, bike, run, swim, and work my way to my goal.
If you want to get back on your right path, make the choice. First set the goal then follow up with massive dedicated action toward your goal. That's how you get back on path. Was 2015 your year? This one can be even better.
Let's get to work.